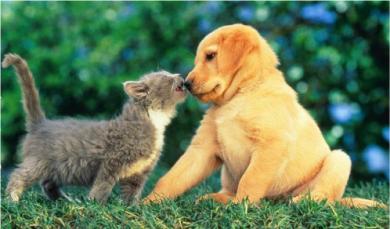 The general consensus is do not give a pet as a gift.
Too often animals given as gifts end up abandoned, and fill shelters. The last thing in the world we want is to be adding to the problem of unwanted animals out there.
However, giving someone a pet as a gift isn't wrong, as long as it's not a surprise gift, or one given on the whim of a child's wish. Especially a young child to whom you are not the parent, and if you know the parents aren't willing to care for a pet if the child grows tired or disinterested in the pet.
So when is it okay to give someone a pet as a gift? When it has been discussed in detail beforehand, and the subject has been given much thought by the recipient. If the person wants a pet for all the right reasons (cute and fluffy is not a reason), and the person understands it's a commitment for the lifetime of the animal, both financial and emotional, then yes, a pet is a great gift.
We recommend rescuing an animal from a shelter, as they are cheaper, have usually already been spayed or neutered, and have their shots, and you're helping a helpless animal find a forever home.
If you do give someone a pet as a gift this holiday season, why not make sure the pet will be well-set up, with accompanying grooming supplies, a bed and toys.
Or give a friend with a pet high quality, organic pet grooming supplies, like shampoo, conditioner, wipes (the latter are perfect for cats and dogs).
Just remember a pet is never a surprise gift. Ever.
Happy holiday shopping.