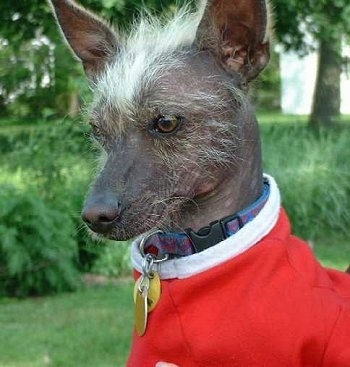 It's Cinco de Mayo! So before you head to your local Mexican Cantina for a vat of Margaritas (or just your local pub, or your liquor cabinet), or dress your dog up to look like the doggy version of Speedy Gonzales (I like Speedy G), we ask you to join us in celebrating with the dog above.
Who is the dog above? We don't know him (or her) personally, but he's a rare, hairless breed of dog from Mexico!
The Mexican Hairless dog, or Xolo (full name Xoloitzcuintle) comes in many sizes, has been most likely drinking tequila (I'm sure all Mexican dogs like tequila, just like all German Shepherds love to herd sheep) for over 300,000 years. He was sacred to the Aztecs, and more importantly (to all soccer fans at least) he's the symbol for Club Tijuana, a Mexican professional football (soccer) club!
So, when you have your mandatory tequila shot, say a cheer for the Xolo!