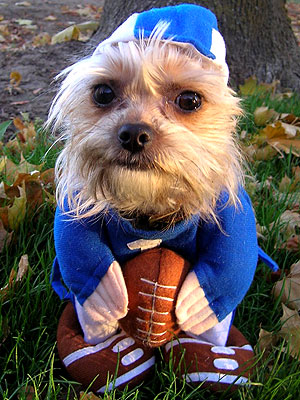 It's a doggone weekend, this weekend, make no mistake.
While loads of people are getting excited and geared up for Super Bowl Sunday tomorrow (and yes, all of New York's sport fans and many of our patriots are excited beyond belief because the New York Giants made it!), some of us are excited for Super Dog Sunday.
If you're asking yourself what is Super Dog Sunday, I'll tell you. The awesome Dogtipper is holding a competition where you send in a photo of your dog. Simple, eh? It's open until 6pm tomorrow night (when kickoff is), and it's to benefit Petfinder Foundation!
To enter, click here and jump on over to dogtipper.com. And don't forget to pass the information on to your friends. The more people enter, the more fun it will be and the more money will be raised to help Petfinder. If you want to check out the photos, both dogtipper.com and their co-host, AllThingsDogBlog.com, will start posting the pics later tonight.
There's no fee to enter, so if you want to help out and make a donation, you can click here to jump on back over to the dogtipper site and scroll down to ways to donate.
So get your dog, get your camera, and start clicking away. Remember, your dog's a Royal Treatment dog, so that gives him a real head start in the competition. There are tons of prizes, too! Go, Super Dog Sunday!